These cupcakes are amazing! A little time consuming, yes, but they are worth the work. Dustin's favorite part is getting to use the kitchen torch.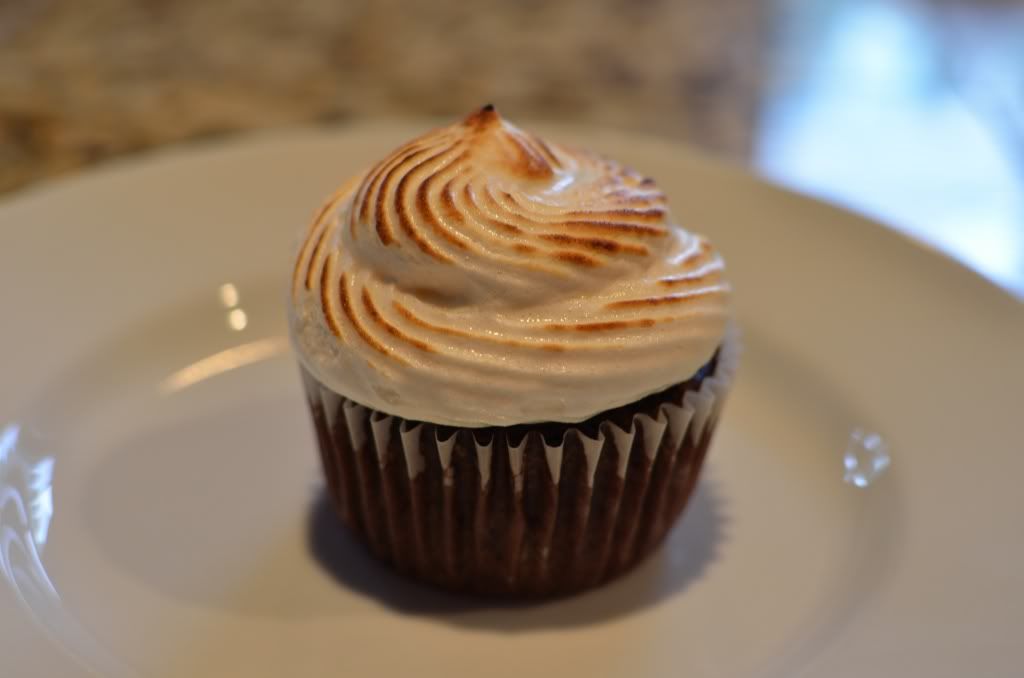 Smores Cupcakes
Cupcakes:
2-1/4 cups plus 2 tablespoons sugar
1-3/4 cups all-purpose flour
3/4 cup plus 1 tablespoon cocoa powder
1-1/2 teaspoons baking powder
1-1/2 teaspoons baking soda
1 teaspoon salt
2 large eggs
1 cup whole milk
1/2 cup vegetable oil
2 teaspoons pure vanilla extract
1 cup boiling water
1-1/2 cups graham cracker crumbs
1/3 cup unsalted butter, melted
9 ounces bittersweet chocolate, finely chopped
Frosting:
8 large egg whites
2 cups sugar
1/2 teaspoon cream of tartar
2 teaspoons pure vanilla extract
Preheat oven to 350 degrees. Line 2 standard muffin tins with cupcake liners; set aside.
Combine 2 cups plus 2 tablespoons sugar, flour, cocoa powder, baking powder, baking soda, and salt in the bowl of an electric mixer. In a large bowl, mix together eggs, milk, oil, and vanilla. Add to flour mixture and beat on medium speed for 30 seconds using the paddle attachment. Scrape down sides of bowl and continue mixing on medium speed for 2 minutes. Add boiling water and stir to combine; set cake batter aside.
Place graham cracker crumbs, remaining 1/4 cup sugar, and melted butter in a medium bowl; stir until well combined. Place approximately 1 tablespoon graham cracker mixture into the bottom of each prepared muffin cup. Pack the crumbs into the bottom of each cupcake liner (I use our espresso machine tamper). Reserve remaining graham cracker mixture for topping.
Place 2 teaspoons chocolate in each muffin cup. Transfer muffin tins to oven and bake until the graham cracker mixture is golden, about 5 minutes. Remove from oven and fill each muffin cup three-quarters full with cake batter. Then sprinkle with remaining chocolate and graham cracker mixture. Return to the oven and bake until tops are firm and a toothpick inserted in the center comes out clean, about 18 to 20 minutes. Transfer muffin tins to a wire rack and let cupcakes cool in pan for 10 minutes. Remove cupcakes from pan and let cool completely.
Place egg whites, sugar, and cream of tartar in the bowl of an electric mixer. Set over a saucepan with simmering water. Whisk constantly until sugar is dissolved and whites are warm to the touch, about 3 to 4 minutes. Transfer bowl to electric mixer fitted with the whisk attachment, and beat, starting on low speed, gradually increasing to high, until stiff, glossy peaks form, about 5 to 7 minutes. Add vanilla, and mix until combined.
Transfer frosting to a large pastry bag fitted with your tip of choice. Pipe frosting in a spiral motion on each cupcake. Transfer cupcakes to a baking sheet. Using a kitchen torch, lightly brown the frosting (be careful not to burn the cupcake liners!).
Enjoy!