When I was in college, I used to study at a local Starbucks coffee shop. I didn't drink coffee very often, so I had to start out with a fairly "easy" drink - a white chocolate mocha. Eventually, I moved on to a vanilla latte and now I prefer drip coffee. Unless of course the pumpkin spice latte is available. Anyway, I would order my "easy" drink and a toffee almond bar. Gosh those bars were good! Cakey with dark chocolate, white chocolate, and chunks of toffee. Yum! Unfortunately, Starbucks doesn't carry these bars anymore. My heart cries.
A few days ago I found a recipe for toffee almond bars and am enjoying one right this minute. Okay, fine - two. My heart sings once more!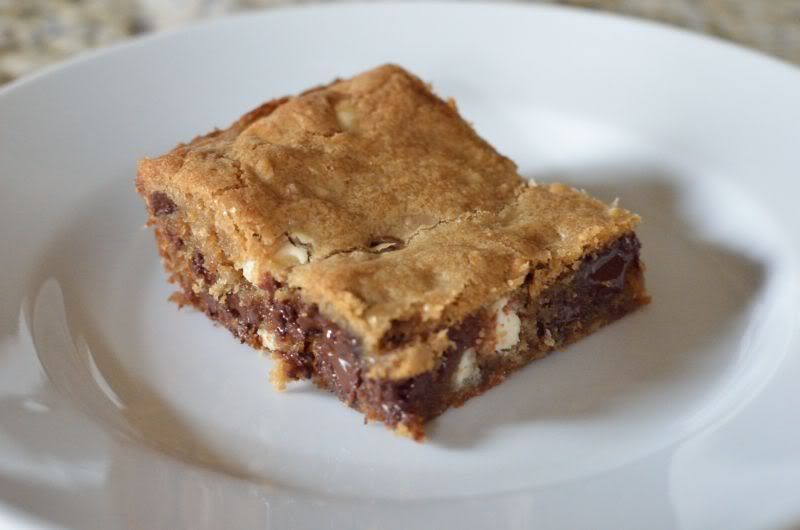 Toffee Almond Bars
1 cup, plus 2 tablespoons, plus 1 teaspoon, flour
1/2 teaspoon baking soda
1/2 teaspoon salt *
3/4 cup brown sugar, packed
1/2 cup unsalted butter, softened *
1/2 teaspoon vanilla extract
1/2 teaspoon almond extract
1 large egg
1/2 cup white chocolate chips **
1/2 cup dark chocolate chips **
1/2 cup Heath chips **
Preheat oven to 375 degrees F. Grease a 9" square baking pan. In a medium bowl, combine 1 cup, plus 2 tablespoons, flour, baking soda, and salt. Set aside. Cream butter, sugar, and vanilla. Add egg and mix until well combined. Add half of flour mixture and mix until combined, then add remaining flour mixture and mix again. In a medium bowl, add white chocolate, dark chocolate, and Heath chips. Add 1 teaspoon flour and toss until candy is lightly coated (this will help keep the chips suspended in the bars). Add chip mixture to batter. Spread into baking pan. Bake for 20 minutes or until golden brown and a toothpick inserted into the center comes out clean. Cool on a wire rack completely so chips can set. Cut into bars.
* I only had salted butter, so I omitted the salt in the batch I made today.
** You can also use chocolate and toffee bars. Just chop them into small pieces.