Dustin absolutely loves this pizza and I make it almost every week. In fact, we haven't ordered a pizza since I mastered this recipe...it's that good!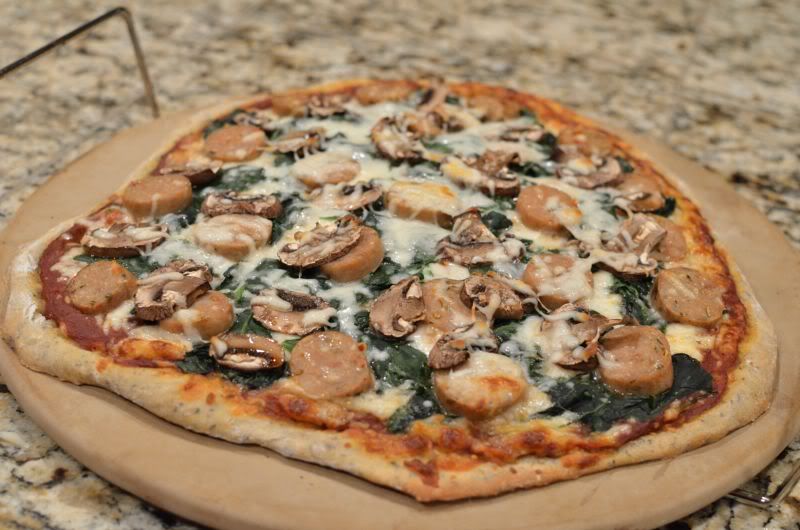 Sausage, Mushroom, and Spinach Pizza
2 links hot Italian chicken sausage
4-6 crimini mushrooms
1 5-ounce package baby spinach
Prepared pizza dough *
1 cup prepared pizza sauce *
2 cups mozzarella cheese, shredded
* You can certainly make your own dough and sauce. With a new baby, I'm often looking for quicker recipes now. I use Trader Joe's pizza sauce and garlic and herb dough.
Remove the pizza dough from it's package and place onto a floured surface. Allow to rise for 30 minutes. Meanwhile, slice the sausage links into 0.25 inch thick rounds. Slice the mushrooms approximately 0.25 inch thick. Place the spinach in a pan, cover, and wilt over low heat. Allow to cool. Preheat oven to 450 degrees F. After the initial 30 minutes has passed, roll the dough out into a 12 inch round. Place on a pizza stone or cookie sheet Spread pizza sauce onto dough, leaving just a 0.5 inch border around the outside. Sprinkle the mozzarella cheese on the sauce. Using a spatula and paper towel, press the spinach to re.move the excess moisture and then spread around the pizza. Place the sausage and mushrooms on the pizza. Sprinkle additional cheese on top. Bake for 10-15 minutes, until the cheese is lightly browned and bubbly. Slice and serve. Enjoy!