My husband never eats the bananas I buy because he's secretly hoping that I'll make banana bread once they've gotten a little too ripe. His wish was granted this morning and the house smells lovely! I love that the weather has finally turned and that I can bake again. Hurray for fall!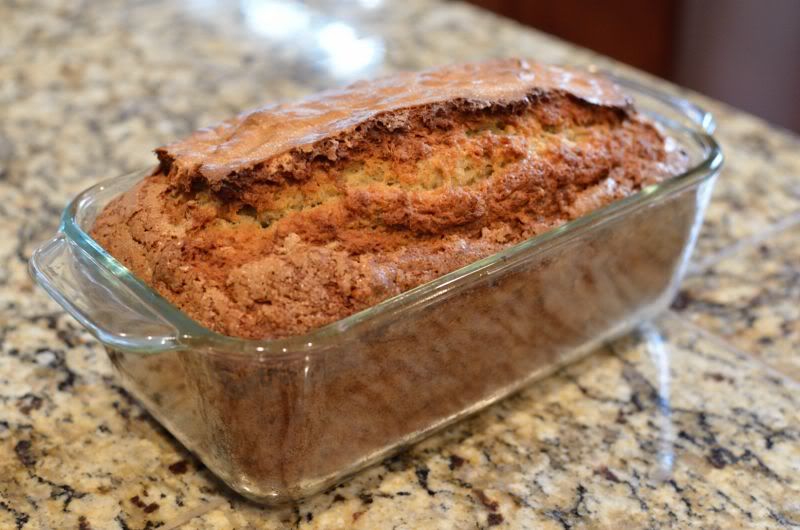 Dania's Favorite Banana Bread
1 cup granulated sugar
1 stick butter, room temperature *
2 large eggs, room temperature
3-5 ripe bananas
0.5 tablespoon milk
0.5 tablespoon vanilla extract
1 teaspoon ground cinnamon
2 cups all-purpose flour
1 teaspoon baking powder
1 teaspoon baking soda
1 teaspoon salt *
0.25 cup chopped walnuts
Vanilla sugar **
* If using salted butter, I only use 0.25 teaspoon salt. If using unsalted butter, I use 1 teaspoon salt.
** Penzeys Spices (only
the
best spice store ever) sells vanilla sugar. If you can't find this, try sprinkling a mixture of cinnamon and granulated sugar over the top instead.
Preheat the oven to 350 degrees F. Grease a loaf pan. Cream the sugar and butter in a large mixing bowl. Add the eggs, one at a time, beating well. In a small bowl, mash the bananas with a form. Mix in the milk, vanilla extract, and cinnamon. In another bowl, combine the flour, baking powder, baking soda, and salt - stir with a fork to mix. Add the banana mixture and walnuts to the creamed mixture and stir to combine. Add the dry ingredients, mixing just until the flour disappears. Pour the batter into the prepared loaf pan and sprinkle vanilla sugar over the top. Bake 1 hour or until a toothpick inserted in the center comes out clear. Allow to cool before slicing (if you can resist, I never can!).
Mmmmmm!